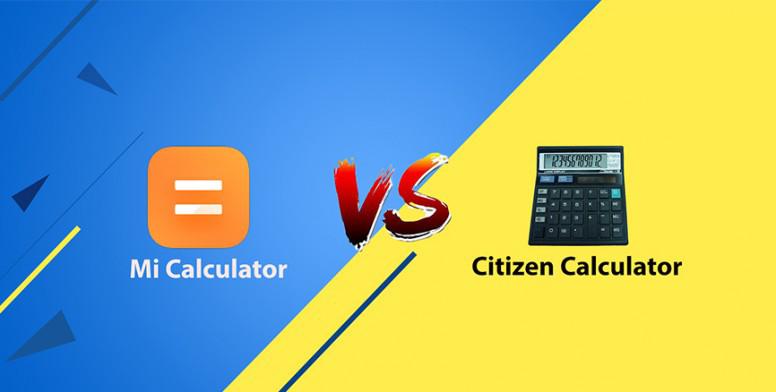 Hi Mi Fans,
For good concepts and true innovation, we need some interaction, it's obviously through debate to explore the possibility. Today's debate is gonna be more interesting. Do you ever need to perform some heavy calculations like BMI, Age, Speed, Numeral System, GST, Loan calculations, Etc? Which calculator do you rely upon use? Do you rely upon google for such calculation or Search for results on the web?

What if I say that Mi Calculator performs many of these functions and also has other additional features. Let me tell you something more exciting, there are no many calculator apps present in Google Play Store which offers many features that are present today in Mi Calculator. Even Citizen Calculator, the mostly widely physically sold has only basic calculation features. The MIUI debate column is ready to compare Mi Calculator Vs Citizen Calculator, we will discuss the merits and demerits of both the apps and the Mi Fans will decide the actual winner!



Which Calculator do you use, and what features do you love in it?

Have some points to debate? Great, we would like to hear them all!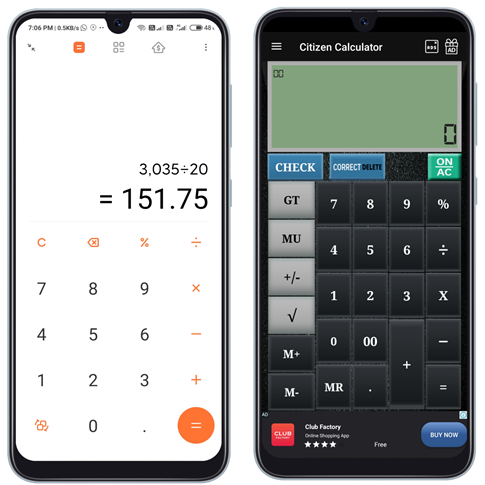 Features of MI Calculator that gives it an edge over Citizen Calculator:
✒ UI: It has a comparatively very attractive and simple UI with a white background decorated with orange color.
✒ Tabs: All the functions and features of the calculator are neatly arranged in minimum tabs.
✒ Currency converter: Real-time currency value can be converted and checked.
✒ Loan Calculator: Calculate the EMI and Interest rate of your loans.
✒ Numeral System: Convert Binary to Decimal or Hexadecimal or Octal.
✒ BMI calculator: Calculate your BMI index.
✒ Floating Feature: You can float your calculator on any app to simply and avoid switching apps for calculations.
✒ Ad-free: Mi Calculator is an ad-free app.

Features of Citizen Calculator that gives it an edge over MI Calculator:
✒ Dynamic Calculator look: The same looks like a real calculator.



So, without further delay, Let's start the debate!

Mi Calculator Vs Citizen Calculator




Let us know your points and views in the comments below, Which one do you like and for what features?