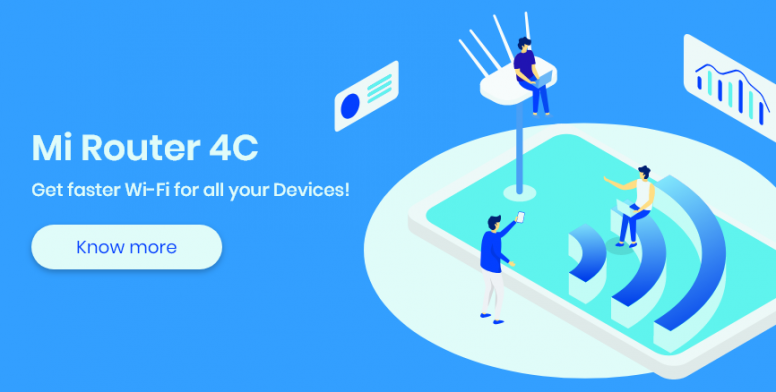 Hey Mi Fans!
Mi Router 4C has been one of the products that were most demanded by every one of us. Like every time, Xiaomi has heard us and brought the Mi Router 4C into the Indian market. And since I have got my hands on it, I thought to write my full experience of it for all of you to make a purchase decision if you are still thinking about it. So fasten your seat belts and keep reading as I dive deep from a user perspective.

Ergonomic Design: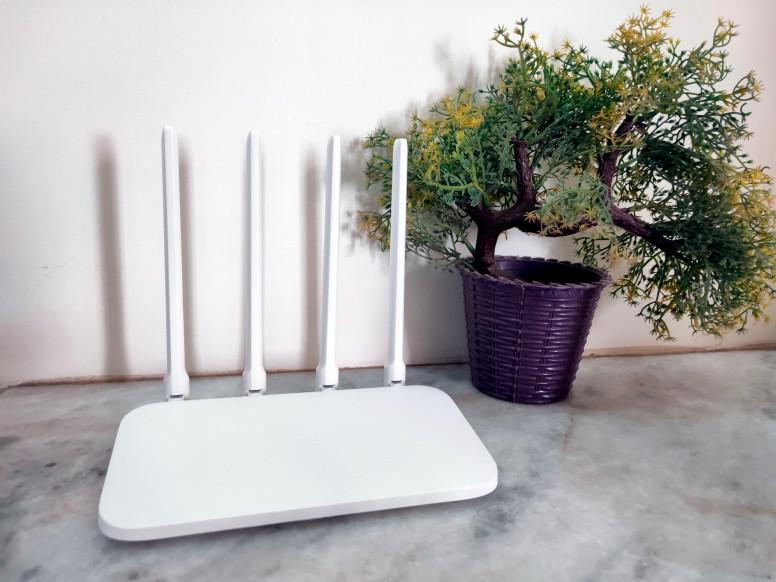 Front Design
The time I unboxed this router and looked at it, the first thing that struck my mind was the ergonomic yet minimalistic design of the Mi Router 4C that what makes me fall in love with the router at first place. There's no bulky LED's or button on the front side, it is as simple as it can be yet the most elegant one.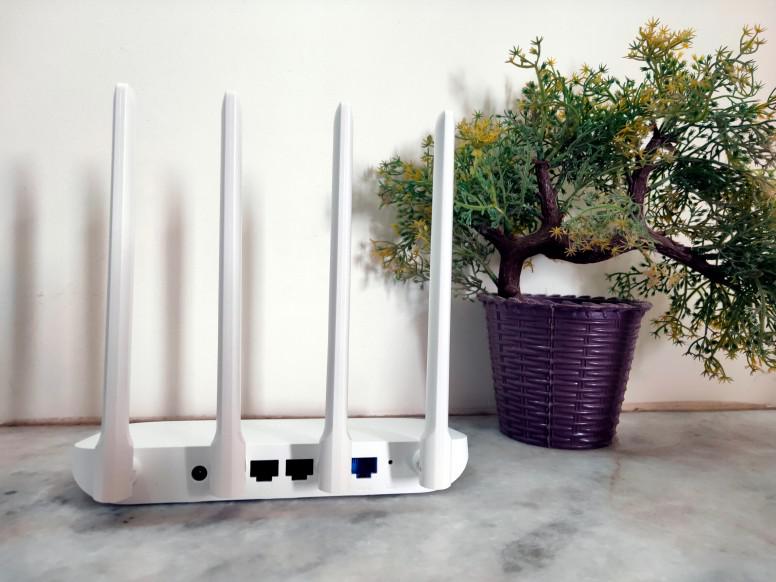 Back design
(from left to right: 1 Power port, 2 WAN Port, 1 LAN Port & a Small Reset Button)
Let me take you to back of the Mi Router 4C. The Mi Router 4C comes with a 4 high-performance antenna that supports 2.4GHZ WiFi with up to 300 MBPS speed. There are simply 4 slots. From the left, a power slot, 2 WAN ports, and 1 LAN port. And that small hole is the reset button pressing into it will reset the Mi Router 4C.
Superfast Connectivity: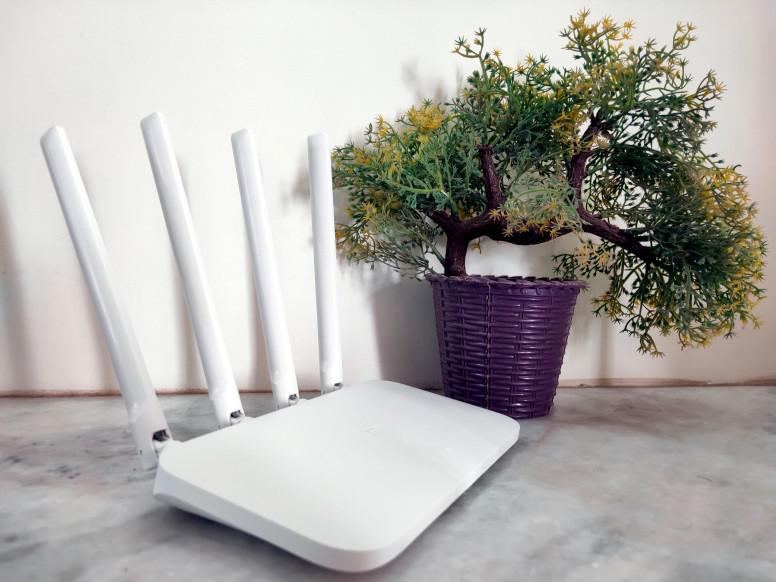 Minimalistic side design
The Mi Router 4C supports 2.4GHz Wi-Fi up to 300 MBPS speed which you can completely access from the Mi Wi-Fi App. With the 4 antenna design, Mi Router 4C gives increased operational range and connectivity speed as well thus streaming videos or playing games will surely give you low latency giving you a smoother experience in whatever you do. And if that's not all, Mi Router 4C comes with 64MB of RAM that can support up to 64 devices at a time which is 8 times more than the routers available in the market right now. That's huge, isn't it?
Breathtaking Mi Wi-Fi App: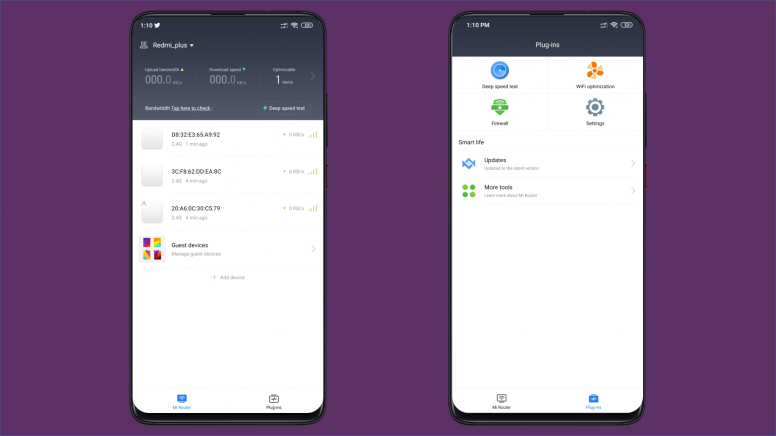 1. The home screen of Mi Wi-Fi App
2. Various plugins to manage Router remotely
The Mi Router 4C can be controlled through the Mi Wi-Fi App which gives you one-touch app control on your smartphone. Mi Wi-Fi App gives you the flexibility of controlling your Mi Router 4C remotely from anywhere on the Earth. And in case someone connects to your device without you knowing, Mi Wi-Fi App has got your back. It will alert you with a notification on your smartphone so you get to know who is using your Wi-Fi without letting you know.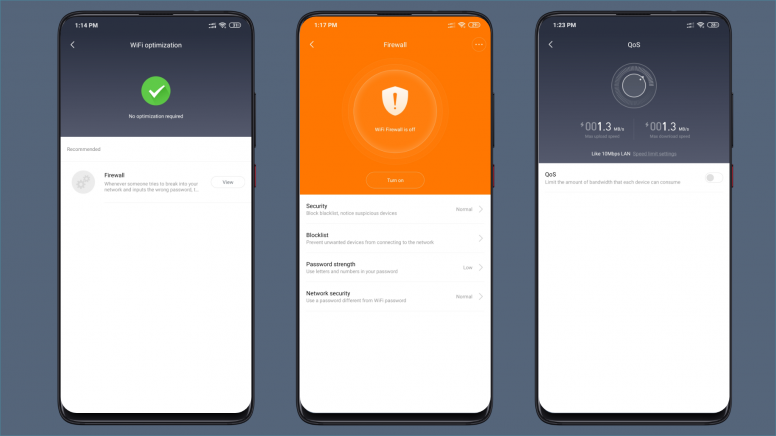 1. Wi-Fi optimization 2. Firewall & 3. QoS
Going deeper, Mi Router 4C gives you so many features including Wi-Fi Optimization, Firewall, Wi-Fi Timer, and QoS to which you can full control over your Wi-Fi connection. And if that's not all, you get an option to control who can access your Wi-Fi connection too and that's makes me fall truly in love with Mi Router 4C.
Secure Connection: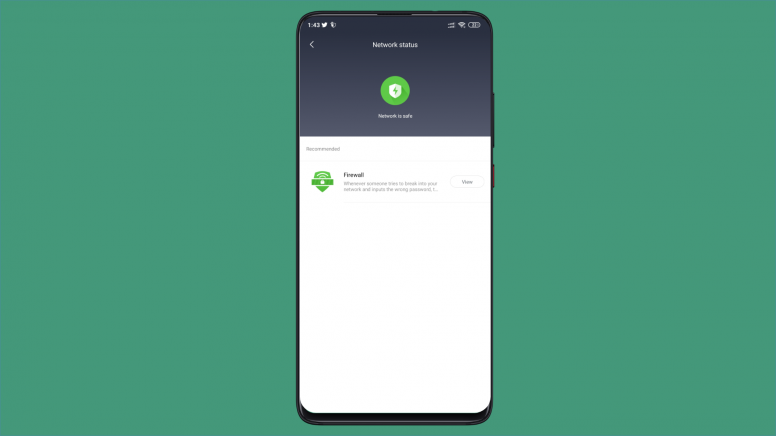 Network status screen


Imagine, you have a party at your place and you have friends coming over at your place, I am sure everybody has different priorities when it comes to using Wi-Fi, maybe playing games, playing music in the party and what not? But do you want to limit the usage of Wi-Fi as you don't want your data to get over? Mi Router 4C has got your back! Simply limit the speed to lower one or just give usage restriction to your friend's phone and that's all! They won't eat your data more than what you want them to! And that's one of my most favorite features and I am certainly sure you will love it too!

Final Verdict:
Coming to a conclusion is not so easy, Mi Router 4C has got a lot of things to show off! But anyway, my personal opinion for Mi Router 4C is, if you are looking for a router that will give you full control on Wi-Fi network be it having a greater range or having up to 64 devices connected together, Mi Router 4C is the most ideal choice for you. So Mi Fans, what are you waiting for head towards the below link and get one for home.


| | | |
| --- | --- | --- |
| Product | Price (in Rs.) | Where to buy? |
| Mi Router 4C | 999/- | |
What are your views regarding Mi Router 4C?
Are you planning to buy one?