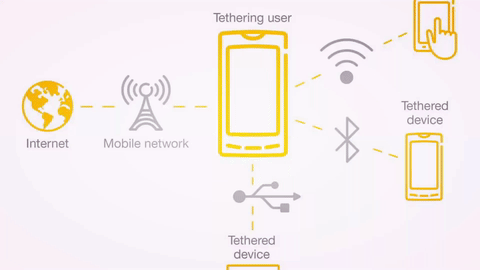 Hello Mi Fans,
Tethering, or phone-as-modem (PAM), is the act of sharing your phone's mobile data connection with another device — such as your laptop or tablet or PC— connecting it to the Internet through your phone's data connection.It is useful when you're somewhere where you don't have Wi-Fi , but do have cellular data access, and want to do something on your computer instead of your phone. There are several ways to tether on android.
With the current Android smartphones and tablets, tethering or mobile network sharing is possible in one of three ways.
WiFi Tethering
Bluetooth Tethering
USB Tethering

How to enable tethering?
Make sure that you have a valid and strong mobile data connection for better internet speed.
WiFi Tethering (hotspot)
Wi-Fi tethering has faster theoretical speeds than Bluetooth. With Wi-Fi tethering, you can connect more than one device — but the battery will drain faster than if you used Bluetooth.
Open device settings.
Select Personal Hotspot.
Switch ON 'Portable WLAN hotspot'.

Tap Set up WLAN hotspot.
Tap and change the option that you want to customize. Network name. Security. Password. AP band.

6)Now connect the devices that you want to your own customised mobile wifi modem.
Bluetooth Tethering
Bluetooth tethering has slower theoretical speeds, but this shouldn't matter on 3G/4G connections. You can only tether one device at a time via Bluetooth, but it uses less battery power than Wi-FI tethering.
Open device settings.
Click on More option.
Switch on Bluetooth Tethering.

Then enable bluetooth on your PC and visit the Devices & Printers in Control Panel. Use the Add a Device button to add your phone and pair it with your PC.
Once paired, you can right-click your phone and select Access Point to tether with it over Bluetooth.

USB tethering has the fastest speeds, but you have to connect your phone to your laptop with a USB cable. Your phone's battery won't drain because it will use power from your PC's USB port.
Connect your mobile to PC or laptop via a working USB Cable.
Open device settings.
Click on More option.
Switch on USB Tethering.

The USB tethering connection is described as a "Remote NDIS based Internet Sharing Device." Use this adapter to connect to the Internet using your phone's data connection. It should be used automatically if you're disconnected from standard Wi-Fi and wired networks.

Tethering consumes very high battery.
When not in use,disable it to save power on your Android phone and keep its battery going longer.
So which type of tethering do you all use.Express your views in comment section.
Thank You!
Rate