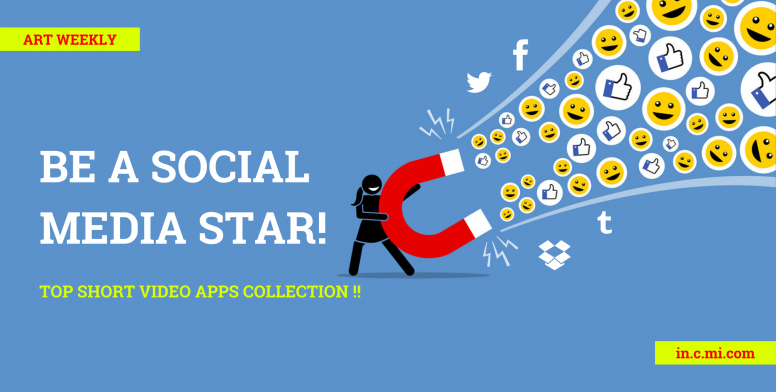 Hi Mi Fans!
Short-form video apps arrived in India at the end of 2017 and have established themselves as viable entertainment options, allowing users to create content within 15 to 60-second spurts. In fact, we estimate that the average daily time spent with short-form video among mobile internet users has steadily risen. Why are short-form video apps so popular? The rise of short videos hasn't really disrupted other types of video, as consumption of long-form content is still prevalent. The short form, however, provides a new choice for users and fits a person's quick pace of life. Marketers in the world have come to regard short-form video apps as an ideal environment to interact with consumers and an effective advertising platform and individuals are considering it a platform to express their skills. So today we will look for the best Short video apps available in the Google Play Store. Let's get started!



TikTok is one of the most popular trending short video making app. It's mission is to capture and present the world's creativity, knowledge, and precious life moments, directly from the mobile phone. TikTok enables everyone to be a creator, and encourages users to share their passion and creative expression through their videos.
Vskit - Short Videos, More Fun

Vskit is a fun short video social and sharing platform. Vskit's recommendation algorithm will accurately recommend contents that you may be interested in, feel other people's joy of lives while watching their videos, appreciate their talents, communicate with them and become friends on Vskit.
ShareChat - Make Friends, WhatsApp Status & Videos

ShareChat app is one of the best Indian Android app that enables the users to get everything whether it is related to fun or GK etc. With the help of this app users can get best jokes, photos, videos, recent or current information from India in just few seconds. This application is available in many languages like Hindi, English, Telugu, Marathi, Gujarati, Malayalam etc.

Snapchat is an app that allows you to give and take brief flashes of daily updates in life. Since its inception in 2011, Snapchat has been one of the most popular social networking apps.With its instant yet temporary video and photo-sharing function, the app has garnered a lot of interest among netizens. Take a Snap, add a caption or fun effects, then send it to your best friends. SNAP • Snapchat opens right to the camera so you can share the moment in seconds. • New selfie Lenses and Filters are added every day. Change the way you look
Kwai-Daily Status & Social video Community

Kwai is another app which gives you an opportunity to not only enjoy and have fun rather we can earn a few bucks with this app. This means you can earn coins while creating, editing or sharing your videos with your friends. The kwai app offers 1 coin on 5-6 views on single video and this one coin is equal to $0.01. The Kwai is mainly used to make short videos which can be easily used for updating video status in Whatsapp, Profile photo in Facebook and even we can create a network of friends and share our short videos with them on Kwai application.
So, which of these apps you found suitable? Do comment below.
Regards,

Maji George
App Review Team

Related Articles;
A big thanks to all my App Review Teammates and my fellow Team Leader JayUser. I would also like to thank our Mod Wrony1119, SMod MiAkash, lungkhim7, and Admin R0user without your constant support this amazing journey wouldn't have been possible.

Don't forget to subscribe our Official App Review Team Telegram Channel
Popular Columns Across Mi Community
SUBSCRIBE NOW
If we missed any of the Short Video Apps for Android, tell us about them in the comments!