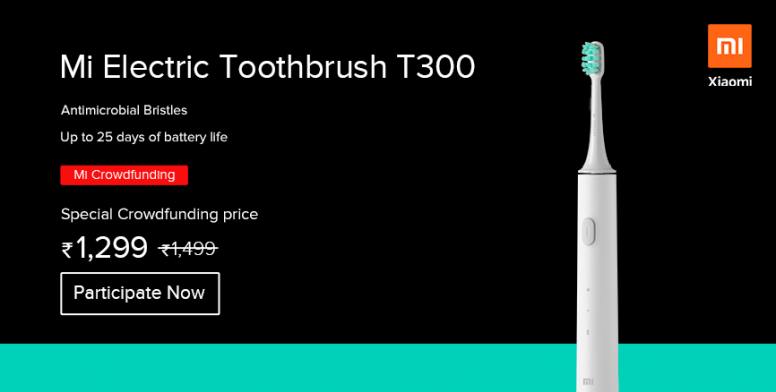 Mi Fans,

Does the fear of cavity stop you from eating your favorite dessert? Or your mom drags you for a regular dental check-up? Well, we have got you covered. Mi Electric Toothbrush T300 is going on crowdfunding on mi.com for just ₹1,299. With 25 days of battery usage and fast charging support, it gives you 10 times more efficient cleaning and is 99% effective in bacteria inhibition.

Using different ways to distinguish your toothbrush from the family members? Your concerns are sorted now. The Mi Electric Toothbrush T300 comes with three different color rings for easy identification.



Mi Electric Toothbrush T300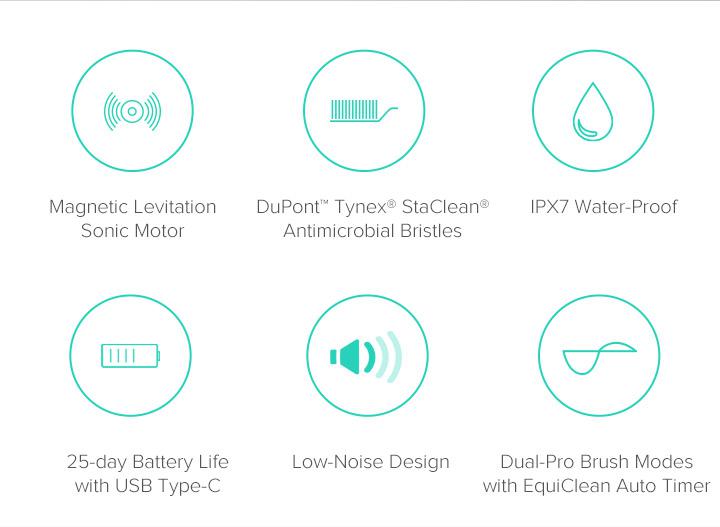 Powerful Teeth Cleaning
10 Times More Efficient Cleaning*
Powered by a superior magnetic levitation sonic motor, this electric toothbrush successfully produces up to 31000 vibrations per minute buzzing away at the bacteria, food particles and stains with less effort on your part.

Comfortable Intuitive Design
99% Effective in Bacteria Inhibition
The DuPont™ Tynex® StaClean® Antimicrobial Bristles are softly thin-tipped and are set at a 10-degree angle that effectively loosens and whisks plaque and debris from even the blind spots of your teeth and gums.

Switch from Regular Brushing to Pro Brushing
Dual-Pro Brush Modes with EquiClean Auto Timer
This electric toothbrush features Dual-Pro Brush Modes to match your preferred style and pace. The EquiClean Auto Timer goes off after 2 minutes pausing after every 30 seconds, so you are reminded to switch sides.

Lasting Rechargeable Battery
Fast Charging with USB Type-C Port
The long-lasting battery offers up to 25 days of use*. The LED indicator alerts you about the battery and charging status.

Maintenance Made Simple
Store it Anywhere
The IPX7 waterproof design and the plastic brush head cover case makes storage simple and hassle-free. Our innovative design helps you store the toothbrush upright.

Different Color Rings for Identification
The base features a small ring, the package includes 3 different color rings for easy identification among family members.