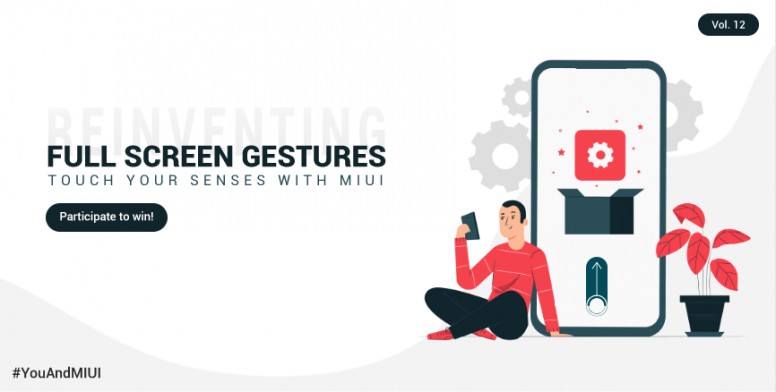 Monday again? Argh!
Before 2007, nobody believed that touch would be an independent control mechanism for the whole smartphone, technology has progressed a lot since then. Starting with tactile physical buttons, on-screen navigation buttons to immersive modern gestures that just feels natural extension. The evolution has added a whole lot to the user experience and it's hard to switch back to the old system.

One such progression, Full-Screen Gestures were first introduced to the tech world 4-5 years back. This cuts down a lot of clutter from the interface and makes maneuvering a lot easier. MIUI, when it comes to full-screen gestures, has the perfect navigation system for Android, one of the best in the industry in fact (stock Android has still got a lot to catch up).



This Week's Activity | Full-Screen Gestures


We have been playing in kind of a monopoly and that's no fun. Thus, let us call in every face of Full-Screen Gestures from every corner of the tech industry and experience the beauty of it. All you have to do is tell us which face of this feature in particular best suits your everyday life. Also, tell us the reason behind your personal preference towards a specific flavor. With that being said, let's get started.

If you are on MIUI, how do I make use of it?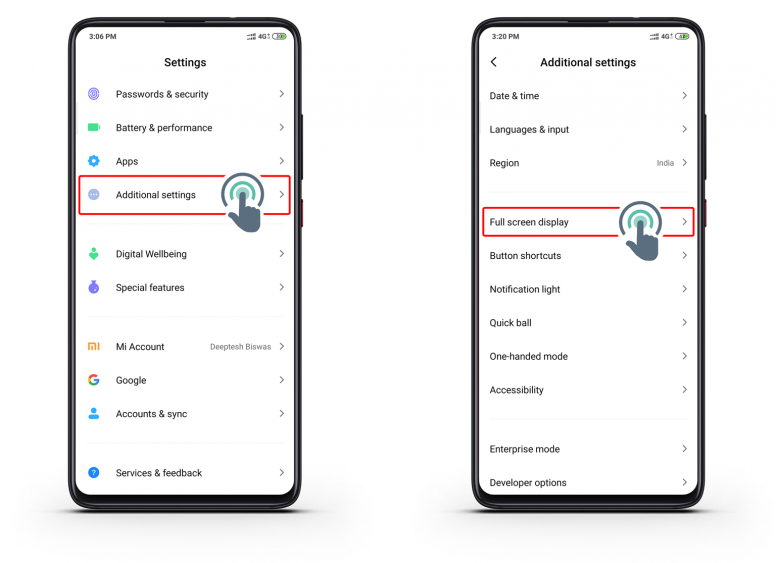 Head on to 'Settings'
Scroll down and tap on 'Additional Settings'
Navigate to 'Full-Screen Display'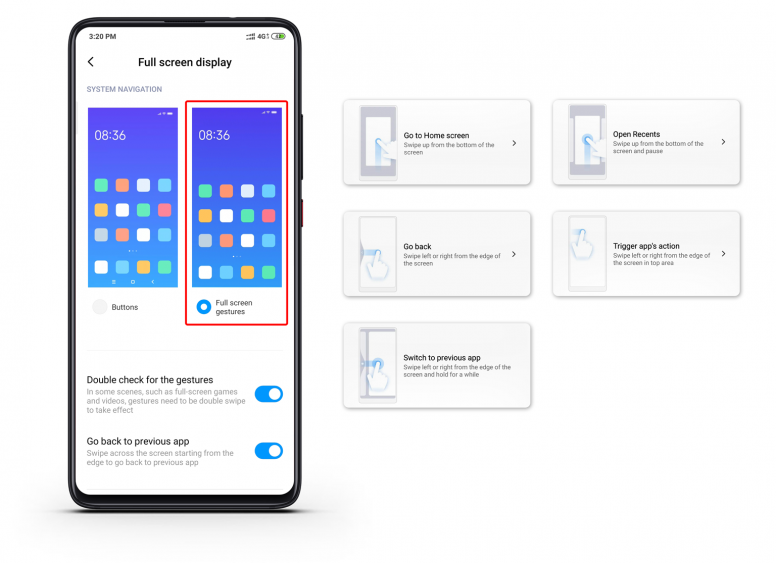 Once in, tap on 'Full-Screen Gestures' to enable it
Swipe Up from the screen to go to the home screen
Swipe Up from the screen and pause to open recents
Swipe Left/Right from the edge of the screen to go back
Swipe Left/Right from the edge of the screen in the top area to trigger app's action
Swipe Left/Right from the edge of the screen and hold for a while to switch to previous/next app

How to participate?
Try using the 'Full-Screen Gestures' on MIUI (or any other UI)
Compare it with its competitors/counterparts (including MIUI if you are using another smartphone)
Tell us which one suits your needs the best and why
If you find MIUI's offering not up to the mark, do mention the reasons
Please make sure to reply present your perspective with valid points

Winners Selection:
Every valid reply will be awarded 100 Community points
The best three replies will be rewarded with 1000 Community points
Winners will be judged by the Admin, MIUI Moderators & Super Moderators of Mi Community

Timeline:
From today onwards till 1st March 2020, 11:59 PM (IST)
We will post the winner's names in the next episode so stay tuned!

Winners from Volume 11 of #YouAndMIUI:

Congratulations everyone! We have already processed 1000 Community points to the above users. Also, every valid responder has been rewarded with 100 Community points.
How do I cross-check if I got the points?
Open Mi Community App
Tap on the top right bell icon
Once in, tap on Notifications tab
Now tap on 'Mi Community Official' tab and see it for yourself

About #YouAndMIUI:
A magnificent series brought to you by Team MIUI. An initiative to bring out the best of MIUI and push it even further collaborating with Mi Fans powering innovation for all.

Special thanks to Admin R0user, my co-mods MiAkash, biswas_deeptesh, and lungkhim7 for inspiration and support.




Rate