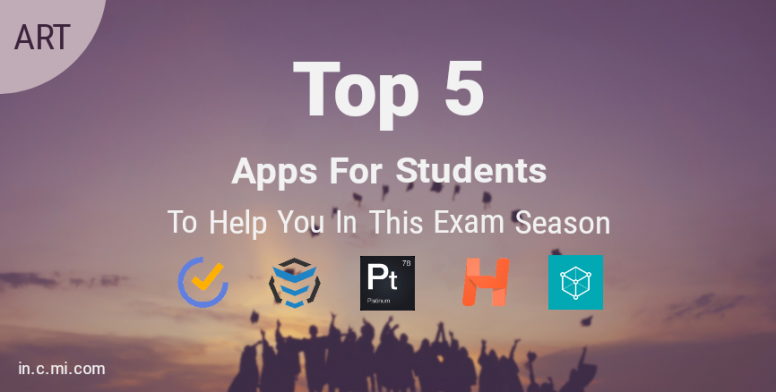 Hey learners!
Exam time is here, so its time to prepare yourself. While studying can mean hours spent in the library, it doesn't have to be so boring! As digital technology continues to improve, there are more and more apps to help make studying both easier and more fun. Today we have come up with some useful apps which will definitely help you to get rid of exam fears. Let's check them out.
TickTick

This is a task organiser app. With this you can organise your study routine and make better use of your time. You can also use it for taking notes, reminder, etc. This is one of the best apps for organising tasks.
AppBlock

This is a digital wellbeing app. Which can block certain apps and websites. This can help you to get rid of your smartphone addiction so you can concentrate more on your studies. There are more interesting features, you should check it out.
Periodic Table 2020

If you have ever studied science you know what is Periodic Table. This table consists all the known elements even the artificial elements. This is very handy tool for all science students. You can also get detailed information about the elements.
Historical Calendar
This is very useful app. This will help you get facts or stories of any specific dates. It also gives you deta of today in history. Means what happened in this particular date in history. Deta are very detailed. It's a must have for all students.
Math Theory

If you are someone who needs help or you are week in mathematics. Then this app is for you. It has all the formula of various mathematics streams. It also has some Intuitive lessons which will help you remember math formula. You should try this app.
More Like This:
Do share your thoughts on the comment section and let us know how many of these apps are you using right now. Also, we wish you good luck.
A big thanks to all my App Review Teammates and my fellow Team Leader
Maji George
. I would also like to thank our Mod Wrony1119, SMod MiAkash, lungkhim7, and Admin R0user without your constant support this amazing journey wouldn't have been possible.

Don't forget to subscribe our Official App Review Team Telegram Channel
Popular Columns Across Mi Community
SUBSCRIBE NOW