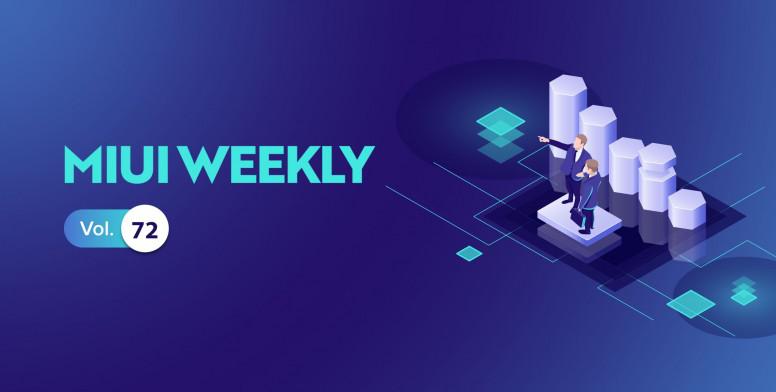 Hello Mi Fans
If you've been busy last week and couldn't keep up with the updates from our MIUI team, then MIUI Weekly is the right place for you. This is indeed where we bring you the best of MIUI threads you might have missed. Keep reading!




[ColorMi #2] Sky Above Us - Up above the World so High | Download and Win




Heya Mi Fans!

Welcome back once again to your own #MiColors series. While the MIUI theme store is vast with so much of content floating around by so many amazing MIUI developers and designers bringing all kinds of creativity to your smartphone, we are your helping hand in case you get tired scrolling through. With #ColorMi series we are going to handpick the amazing content from MIUI theme store that we think is cool and stands out.

Read more...
Flaunt your style! Now customize Always On Display on K20 series!
by
mishsuji




Hey Folks!
It's a pleasure to be back again with a new thread and to interact with you all, hope you all are doing well out there. 'Good things come to those who wait' the same is applicable here too. As you remember the K20 series introduced the new Always-on Display feature. It was redesigned in MIUI 11 update bringing various new themes like "Kaleidoscope", "Analog Clocks", "Custom Signatures", and much more to utilize the AMOLED panel's power by lighting up only the part of the screen.
[MIUI Weekly Poll] [Vol 21] MIUI Color Scheme | Color your senses the Xiaomi way!




Aloha Mi Fans!

After every tiring Monday, Tuesday and so on, another weekend awaits to cheer you up. And every weekend, I promise to bring you an exciting 'MIUI Weekly Poll' for all the nerdy heads. Colors play a vital role in our daily life, it's a component that makes almost everything realistic and my dear friends, this realism and immersive experience can be controlled with just a touch. MIUI brings you the most intuitive display preference and you are the judge!

Read more...
Mi Steps Tracker: View Activity Stats And Set Goals Directly From App Vault



Ahoy Folks!

Since we carry our phones all the time, they are one of the best devices for tracking our activities. MIUI 11 brings a built-in step counter on all Xiaomi devices. It works very similar to the Google Fit app and offers a step tracker right into the App Vault for easy access. MIUI 11 uses the accelerometer on your device and walking pattern to determine your step count.This can be accessed by swiping right from the home screen - through the App Vault.

Read more...
MIUI Launcher vs Nova Launcher - Choose your Launcher!
by
soumyajit



Hi Mi Fans!




Welcome to the MIUI Weekly Debate episode. As usual in today's debate we have come up with an amazing hot topic, the basic need of our device i.e.the launcher. There is no doubt that launcher means a lot for all the users when comes to usability of the device with ease.A well organised, with interactive apps support is what we look when we prefer about the launcher. MIUI default launcher has been one of the broadly formulated one which is of course a best pick.

Read more...
That's a wrap up for this week. I hope to see you all with another new compilation next week. But for now, I would like to thank all my fellow MIUI Mods for contributing their time and efforts to share these amazing threads for our Mi Fans. Don't forget to vote for your favorite threads and share your thoughts about this volume in the comments section below!
About MIUI Weekly:-
MIUI Weekly is an initiative taken by team MIUI to connect with Mi Fan's even better. Through this weekly series, we bring out different features of MIUI and ask your opinion on how things are and how they should be. This helps us gather information about user preferences and make MIUI even better from a user's perspective
Vote for the best thread below and help us improve!
Rate