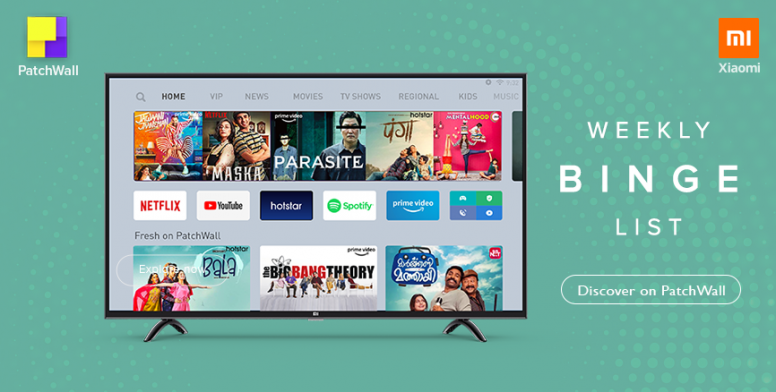 Hey Mi TV Fans,
Bored staying at home during the lockdown? Then I guess you might be looking for some entertainment options to cure the boredom, right? Well, we've got you covered. Here is the PatchWall Weekly Binge List made just for you to help you kill boredom and keep yourself entertained while you stay back home. Here we'll be taking a look at a collection of movies and shows, which are currently available on PatchWall from content partners including Amazon Prime Video, Netflix, Hotstar and many more. So now, let's get started.

1. Jawaani Jaaneman
A carefree middle-aged single man, who is high on life and spends most of his time at parties with beautiful women suddenly finds himself the father of a young girl who is also pregnant. Will he rise up to the occasion or continue to live his free-spirited life in denial? Jawaani Jaaneman starring Saif Ali Khan is a coming of age film and a comic take on how a man confronts the harsh reality of his life. Watch this movie right now on PatchWall over Amazon Prime Video.
Audio Language: Hindi

2. Bala
Bala is a 2019 Bollywood comedy film. The movie narrates the story of a man named, Bala (Ayushmann Khurrana), who is a young man living in Kanpur and suffering from male pattern baldness at a young age. The story is about his lack of confidence and the societal pressure that comes with premature balding and the ways he struggles to cope up with the situation. The movie can be streamed over Hotstar on PatchWall.
Audio Language: Hindi

3. Panga
An emotional roller coaster tale of a forgotten Kabaddi world champion who catalyzes an inner desire to give a new meaning to her existing role as a wife and mother, and makes a comeback. This movie can be streamed on PatchWall via Hotstar.
Audio Language: Hindi

4. Mentalhood
Mentalhood is a ZEE5 Original drama series starring Karishma Kapoor, Sanjay Suri, Dino Morea, Sandhya Mridul, Shilpa Shukla, Tillotama Shome and Shruti Seth. Meira, a multi-tasking mom, tries to find the right balance in parenting. Stream this series on your Mi TV right now over Zee5.
Audio Language: Hindi

5. Marley & Me
Jennifer Aniston and Owen Wilson unleash heartfelt laughs as John and Jenny Grogan, a young couple contemplating the lifechanging decision to have a baby. Then comes Marley...an adorable, rambunctious Labrador pup who flunks obedience school and quickly turns the Grogan household into a disaster area. Stream Marley & Me on your Mi TV over Amazon Prime Video.
Audio Language: English

6. Marconi Mathai
Mathai, an ex-soldier lives a simple life as a security guard. Mathai falls in love with Anna, but he is afraid of telling it to Anna. People who all are touched by Mathai's kindness help him to overcome all the hurdles that come in his life. Watch this movie on PatchWall over Sun NXT.
Audio Language: Malayalam

7. Maska
Determined to make it in showbiz, an aspiring young actor considers turning his back on the beloved Irani café run by his family for generations. You can watch 'Maska' on Netflix right now on your Mi TV.
Audio Language: English, Hindi

8. The Big Bang Theory
Leonard and Sheldon are brilliant physicists- geniuses in the laboratory but socially challenged everywhere else. Leonard believes he's found true love with beautiful, street-smart neighbor Penny, and they finally got engaged. Even Sheldon has found a female companion, entering into a "Relationship Agreement" with neurobiologist Amy Farrah Fowler, who recently asked him to take a break. Stream 'The Big Bang Theory' on your Mi TV via Amazon Prime Video.
Audio Language: English

9. Modern Family
Jay has grown children, grandchildren and a gorgeous young wife with a preteen son of her own. Together, they must bridge generational and cultural gaps. Stream this series right now on Hotstar.
Audio Language: English

10. Jaanu
Ram is a travel photographer and reminisces about his school days. In 2004, while he was in high school, he develops feelings for Jaanu, a talented singer, and she reciprocates as well. After their board exams, Jaanu tells Ram not to forget her until they meet again after the holidays. A school reunion is arranged through their school WhatsApp group. Ram and Jaanu meet after 15 years. This movie is currently available to be streamed on PatchWall over Amazon Prime Video. Audio Language: Telugu, Subtitles: English

11. State of Siege 26/11
State of Siege: 26/11 is a Zee5 Original series based on the 2008 Mumbai terror attacks. TV star Vivek Dahiya is all set to make his digital debut with this series where he plays the character of an NSG commando. The series is said to be oriented at the stories of the unsung heroes and the untold brave stories and lesser-known facts about the 26/11 attack that happened in Mumbai, being presented from an NSG perspective.
Audio Language: Hindi

12. Good Newzz
Two couples with the same surnames pursue in-vitro fertilization and wait for their upcoming babies. Trouble ensues when they find that the sperms of each couple have been mixed with each other. Watch the Bollywood film 'Good Newzz' starring Akshay Kumar, Kareena Kapoor Khan and Diljit Dosanjh which is available to stream via Amazon Prime Video right now on your Mi TV.
Audio Language: Hindi



So, why wait anymore? Tune into PatchWall right now and binge-watch your favorite shows.