Hello everyone!
As everyone is trying to deal with the COVID-19 situation across the world, we hope that you are safe and are taking necessary precautions.
At Xiaomi, we have decided to put the lockdown period to some constructive use. Have you ever wanted to learn new skills from industry veterans and experts? The time is now! If you are a budding content creator then look nowhere else. We are going to provide you a perfect opportunity to upgrade your skills to become a pro during this quarantine period. Join us as we kickstart YouTube video masterclass in the inaugural season of
Redmi Creator Academy
. With Xiaomi India's in-house marketing experts, along with some of your favorite Tech YouTubers and TV stars are coming to Redmi India's YouTube channel to share their knowledge and expertise with you. For
FREE
. The first module of "
How to become a YouTuber?
" will be conducted from
6-10 April
and the Second Masterclass on 'Fundamentals of Creative Strategy' is happening today, so do not miss it!
Subscribe, click on the bell icon, and add a reminder not to miss anything!
Time
7th April, 11 AM IST
Masterclass 2 | Fundamentals of Creative Strategy
With Shree Das & Kanishk Khanna, Content Partnership Lead, YouTube India
In this masterclass, Shree Das who leads Corporate PR & Comm., at Xiaomi India and Kanishk Khanna, Content Partnership Lead, at YouTube India are ready to share the secrets & fundamentals of creative strategy.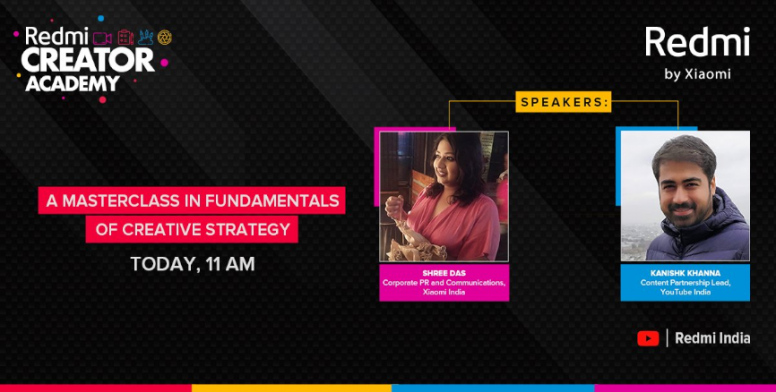 Full Schedule of Upcoming Masterclasses
| | |
| --- | --- |
| Date | Topic |
| Monday, 6th April 2020 | |
| Tuesday, 7th April 2020 | |
| Wednesday, 8th April 2020 | Production Workflow |
| Thursday, 9th April 2020 | Publishing & SEO Best Practices |
| Friday, 10th April 2020 | Social Media Marketing |
About Redmi Creator Academy
India has one of the world's biggest and most vibrant content creator communities. Redmi has always stood strong as an enabler of the creator community. With so many different aspects that go into becoming a successful creator and the lack of a credible platform to share all the dos and don'ts, we feel this gap needs to be addressed. Redmi Creator Academy aims to change that by providing a platform for all the budding creators across various disciplines and thus enabling their creativity.
Redmi Creator Academy will kick starts its first phase with virtual Youtube Video masterclasses with several media, YouTube and in-house experts from Xiaomi India. All sessions will start from Monday, 6th April 2020 across the
Redmi India Youtube channel
and will be conducted daily throughout the week absolutely free of cost. One week of virtual masterclasses will be spread across the entire journey of building high-quality YouTube videos and all experts will cover all important aspects of creating content along with marketing it.
Excited?
Let us know in the comments below