Edited by Karthik Mohan at 2016-11-16 02:03 PM
https://u01.appmifile.com/images/2016/08/25/03fe7be9-21dd-4bbb-b37f-e8cb316eddbe!776x776!100.png
Hello Mi Fans,
Hope you guys are having loads of fun here in our Mi Community.
In today's 'Tech Class' we will take you through CPU Architecture
GPU,CPU and much more.

Introduction


Android supports 3 different processor architectures: ARM, Intel and MIPS. The most popular and ubiquitous of these three is, without a doubt, ARM. Intel is well known primarily because of its popularity in the desktop and server markets, however on mobile it has had less of an impact. MIPS has a long heritage, and lots of success, for both 32- and 64-bit solutions in a variety of embedded spaces, however it is currently the least popular of the three CPU designs for Android. The Central Processing Unit (CPU) is the "brains" of your device. Its job is to execute a sequence of instructions to control the hardware on your device (the display, the touch screen, the cellular modem etc.) to turn it from a lump of plastic and metal into a vibrant smartphone or tablet. Mobile devices are complex things and these CPUs need to execute millions of instructions to make them behave as we expect. The speed and power efficiency of these CPUs is critical. The speed affects the user experience, while the efficiency affects the battery life. The perfect mobile device is one that has high performance and low power usage.
Inside the Smartphone



Our story starts with the desktop PC, because smartphones are essentially pocket-sized computers that have a few extra radios and operate in extremely confined conditions vis-a-vis power consumption, heat output, etc. A PC consists primarily of a motherboard chipset (typically split into a "Northbridge" that connects to the processor and memory (Intel's P45, for example), and a "Southbridge" that connects to various peripheral buses, like PCI-Express, USB, etc. (Intel's ICH10R, for example)), a central processing unit (CPU– Intel's Core 2 Duo, for example), application memory (RAM), permanent storage (hard drive or solid-state disk), a graphics processing unit (GPU– ATI's Radeon HD5890, for example), a power supply, and several peripherals connected to the PCI or PCI-Express buses (a built-in sound chipset or an add-on Wi-Fi card, for example).



ARM architecture


ARM, originally Acorn RISC Machine, later Advanced RISC Machine, is a family of reduced instruction set computing (RISC) architectures for computer processors, configured for various environments. British company ARM Holdings develops the architecture and licenses it to other companies, who design their own products that implement one of those architectures—​​including systems-on-chips (SoC) that incorporate memory, interfaces, radios, etc. It also designs cores that implement this instruction set and licenses these designs to a number of companies that incorporate those core designs into their own products.ARM Holdings periodically releases updates to its cores. All of them support a 32-bit address space (only pre-ARMv3 chips, made before ARM Holdings was formed, as in original Acorn Archimedes, had smaller) and 32-bit arithmetic; the ARMv8-A architecture, announced in October 2011,[7] adds support for a 64-bit address space and 64-bit arithmetic. Instructions for ARM Holdings' cores have 32-bit fixed-length instructions, but later versions of the architecture also support a variable-length instruction set that provides both 32- and 16-bit instructions for improved code density. Some cores can also provide hardware execution of Java bytecodes.
Since the ARM architecture is licensable, companies can either obtain an architectural licence to design their own, customized CPU or simply choose from one of ARM's ready-to-ship core designs. Popular core design from ARM include ARMv7, ARM9, ARM11, Coretex-A8, Cortex-A9 and the most recent, Cortex-A15. Companies like Nvidia, Texas Instruments, Samsung and Apple (to name a few) simply choose one of these designs and packages them along with a GPU and other components, into their own branded SoC. However, SoC manufacturers like Qualcomm prefer to design their own custom CPUs rather than go with the crowd. SD 821 is the latest CPU, designed by Qualcomm and is used in their Mi Mix SoC.


64 Bit Architecture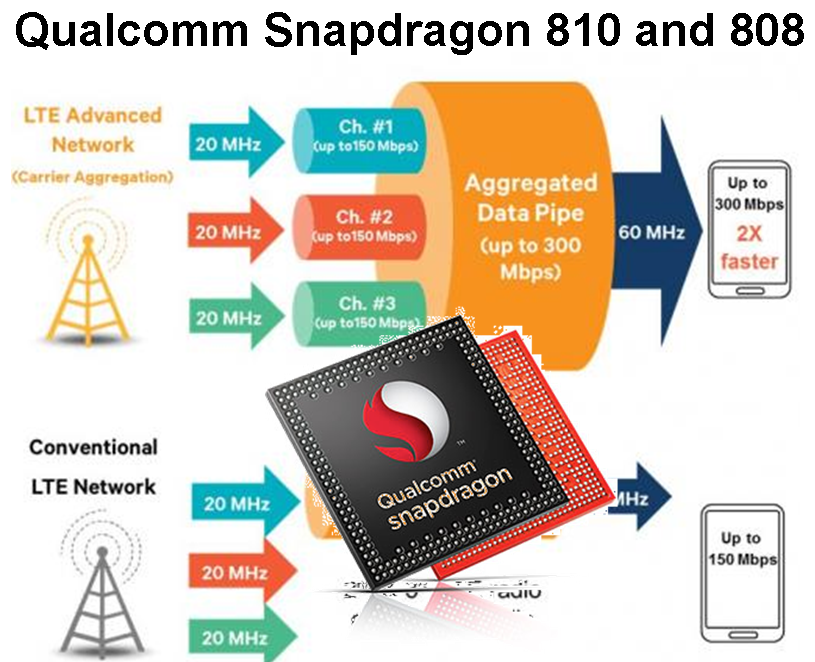 Ask around, and you'll hear numerous definitions of the term "64-bit processor." Most often, you'll hear that it means the processor can use more than 4GB of RAM. This isn't really true, as a chip's "bit count" doesn't really have anything to do with how much memory it can address.
Processors use two kinds of numbers to perform operations like addition, multiplication, and moving or copying data in memory. You have your integers (whole numbers like 90210) and floating-point numbers (those with decimals like 3.14159265359). If a processor can handle integer operations up to 16 bits long, it's a 16-bit processor. If it can handle a 32-bit integer operation, it's 32-bit, and a 64-bit processor can handle 64-bit integers.



So why are 64-bit mobile processors better?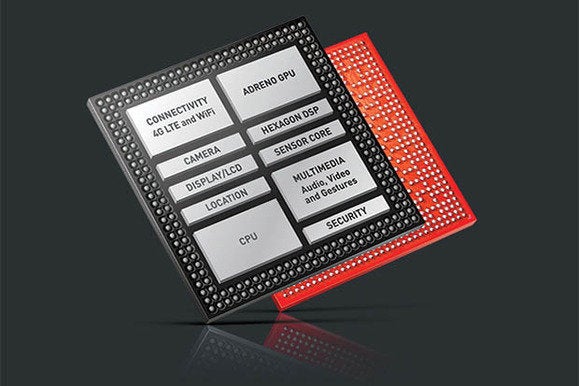 The move from 32-bit to 64-bit ARM processors in our Android devices is just one development in a greater, much more important change: the move from the ARMv7 architecture to ARMv8.
For nearly the past decade, all the chips in our smartphones have been based on one principle set of supported instructions and features—ARMv7. All our modern smartphones, from the original iPhone and Mi5 through the iPhone 6 and Galaxy S7, have been built with processors that adhere to the ARMv7 specifications. Yes, ARMv7 has had its share of improvements and extensions over the years, but at its core, it's still the same fundamental architecture we've been stuck with for almost a decade.
And ARMv7 is getting a little long in the tooth. So about three years ago, ARM introduced a new standard all the chip makers can build processors around—ARMv8.
ARMv8 includes a whole host of improvements. It takes all the ARMv7 instructions that today's processors must handle by default, and streamlines them. New instructions for modern applications have been added, and old, depreciated instructions have been thrown out. Special instructions applicable to encryption have been added, too. What's more, the spaces inside a processor where commonly used instructions and data are stored—they're called registers—have roughly doubled in number in ARMv8. That's a big deal, because it means an ARMv8 processor will spend less time pulling data from memory.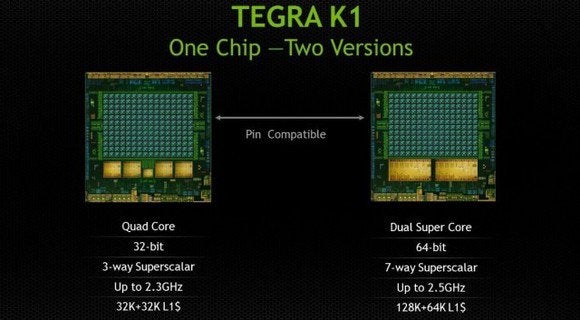 64-bit really needs Android L and above to shine
You see, to properly utilize ARM's new 64-bit architecture, you'll need both operating system and application support. Android Lolipop has been designed to fully support ARMv8 and 64-bit platforms, while KitKat has not.
What's the deal on the different GPUs?






Unlike the CPU component in an SoC that's primarily supplied by ARM, the graphics portion is manufactured by multiple vendors which gives companies the flexibility to pick and choose which GPU goes best with the CPU in their SoC. While back in the day, the primary job of the graphics card was rendering 3D images and displaying them on the screen, today GPUs are used for much more than just playing games and are as crucial as the CPU, if not more. Today's operating systems like Google's Ice Cream Sandwich rely heavily on the GPU since the interface and all the animations are rendered on the graphics chip, which is how you're able to get the buttery smooth transition effects. It also comes in handy when watching HD videos. Just like its PC component, a graphics chip essentially has more cores than a CPU thereby allowing it distribute the load better and leaving the CPU free for other tasks. Take Nvidia's Tegra 3 for instance, this SoC packs in 12 GPU cores. Below are some of the most popular vendors for GPUs.

Lets Discuss about main SOC's and GPU's,



Qualcomm Snapdragon



Snapdragon is a suite of system on a chip (SoC) semiconductor products designed and marketed by Qualcomm for mobile devices. The Snapdragon central processing unit (CPU) uses the ARM RISC instruction set, and a single SoC may include multiple CPU cores, a graphics processing unit (GPU), a wireless modem, and other software and hardware to support a smartphone's global positioning system (GPS), camera, gesture recognition and video. Snapdragon semiconductors are embedded in devices of various systems, including Google Android mobile and Windows Phone devices.[1] They are also used for netbooks, in cars, wearable devices and other devices.
The first Snapdragon product to be made available to consumer device manufacturers was the QSD8250, which was released in November 2007. It included the first 1 GHz processor for mobile phones. Qualcomm introduced its "Krait" microprocessor architecture in the second generation of Snapdragon SoCs in 2011, allowing each processor core to adjust its speed based on the device's needs. At the 2013 Consumer Electronics Show, Qualcomm introduced the first of the Snapdragon 800 series and renamed prior models as the 200, 400 and 600 series. Several new iterations have been introduced since, such as the Snapdragon 805, 810, 615 and 410. Qualcomm re-branded its modem products under the Snapdragon name in December 2014.
Qualcomm Adreno


Previously known as Imageon, ATI developed this line of media processors back in 2002 for handheld and mobile devices. It later came to be known as AMD Imageon when AMD bought ATI in late 2006. After some company restructuring, AMD officially discontinued this line of mobile media chips in 2008 only to be bought by Qualcomm later that year for $64 million. After Qualcomm stepped in, they changed the branding to Adreno since AMD retained the Imageon title. Adreno has since been used in Qualcomm's Snapdragon SoCs, their most popular ones being the Adreno 205, Adreno 220 and the most recent, Adreno 530.
Mediatek





MediaTek is a pioneering fabless semiconductor company, and a market leader in cutting-edge systems on a chip for wireless communications, HDTV, DVD and Blu-ray. MediaTek created the world's first octa-core smartphone platform with LTE and our CorePilot technology released the full power of multi-core mobile processors. MediaTek is headquartered in Taiwan and has offices worldwide.

The processor named Media Tek is the latest chipset in the market. Media Tek has entered the market recently and is developed by a Taiwanese company with a quarterly profit of around a billion dollars. The Media Tek processor believes in the concept of profit from volume rather than the concept of bigger from smaller units. This processor includes low cost of manufacturing in comparison to Qualcomm Snapdragon. It is mainly used in low cost devices originating from China be it for use in native country or for other brands such as Micromax that uses Media Tek processor.

Conclusion


Smartphone manufacturers these days boast of their phones' computer-like capabilities, from desktop-like internet browsing to HD video playback. They toss around spec sheets filled with processor names like ARM11, Cortex A8, Snapdragon, Tegra, OMAP, Armada, and more. More and more features and CPU,GPU all are updating to latest architectures and all.

In comparison with Mediatek, the Qualcomm Snapdragon processor is based on innovative technology delivered before anyone else could get there. Qualcomm Snapdragon processor is expensive in comparison to Media Tek processor. Therefore, the smart phones making the use of Qualcomm Snapdragon chipset are costlier as compared to those making the use of Media Tek chipset. The revenue generated by Qualcomm Snapdragon is six times more in comparison to Media Tek. Qualcomm Snapdragon is the largest manufacturer of chipsets for smart phones.






Credits

: Google Images, Wikipedia.

Special Thanks

to

Device Team Members,

our mentors

@paramgagan

&

@Man Meet


Previous Lessons

Did You find this thread Useful?




Rate